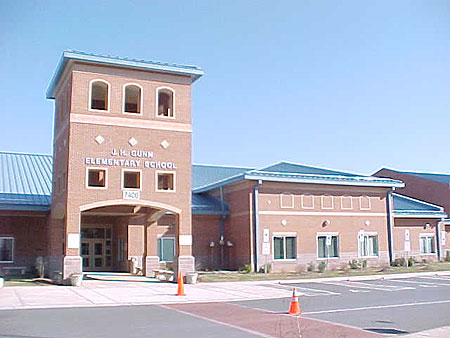 One of the most exciting elements of middle school here at PDS is our partnership with JH Gunn Elementary School. Under the leadership & vision of Cindy Osborne, and a committed group of parent leaders, faculty, and students, PDS is getting a true taste of service learning. It is important to note the differences between service learning and community service, and how that impacts our students and faculty in such a positive way. Community service is a great benefit, too, but the goals and impact of service learning are different. According to the Center for Leadership & Service at the University of Florida, one of the key tenets of service learning is "the incorporation of the concept of mutuality, meaning that several parties are involved in the planning of the program...including students, faculty, and those being served." Another key part of service learning, is that the experience itself "fosters participant learning about the larger social issues that are driving the need for service..." The PDS-JH Gunn partnership is defined by these important tenets, and students & faculty at both schools benefit from working together.
My first experience visiting JH Gunn took place on Wednesday. Along with 38 students, 3 faculty members, and 10 parents, we spent time reading, writing, and eating lunch with 2nd graders. It is an understatement to say that I was impressed with the faculty and students at JH Gunn. From the minute we entered the building, you could tell that JH Gunn was a place where the great things happen. From inspiring quotes, to friendly staff, to prominently displayed student work, it was obvious that everyone at JH Gunn is committed to helping each and every student reach their educational potential.
Along with a group of 8th grade boys, Mr. Harper & I had the special opportunity to work with Mr. K's second grade class. What makes his class extra special is that it was ALL boys...yes, a group of 15 7 and 8 year-old boys!! Mr. K's class was well-behaved and lots of fun. For 30 minutes in the classroom, it was amazing to see our PDS students transform into big brothers, role models, and teachers...and to see a room filled with smiling 2nd graders. The good times continued over lunch, and we enjoyed hearing about life from the perspective of a 7 year-old. It is often said that "time flies when you are having fun," and that was clearly the case with our time spent at JH Gunn.
After getting on the bus, the 38 students spent a few minutes answering reflection questions. Reading these reflections only reinforced my belief that that the PDS-JH Gunn partnership is special. Our students talked about making people smile, enjoying the opportunity to read, write, and teach, and, most of all, hanging out with a fun group of students. In thinking about the success of this partnership, I think that we'd be hard-pressed to find a better way of teaching our middle school students so many important life lessons and "real world" skills. In the years ahead, there is no guarantee that our middle schoolers will remember what they learned in 6th, 7th, and 8th grade, but they will definitely remember their experiences working with JH Gunn Elementary School.
As always, I welcome your comments. Thanks again for reading,
Mike